Title:
Together, We're Invincible
Fandom:
Merlin
Spoilers:
None
Pairing:
Merlin/Arthur
Files:
10 songs (9 mp3, 1 m4a) in a zipped folder, and two png files (front and back covers)
Misc:
Please leave a comment if you download! Thank you :)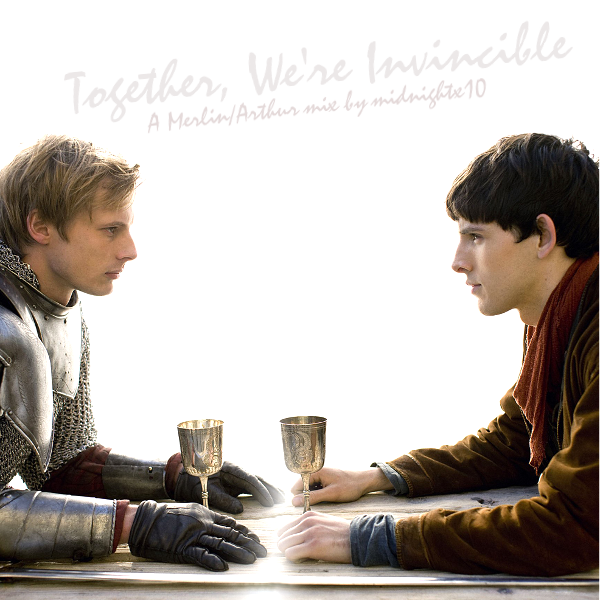 1. Umbrella -

All Time Low

Go on and let the rain pour, I'll be all you need and more, Because when the sun shines we'll shine together, Told you I'll be here forever, Said I'll always be your friend, Took an oath, I'mma stick it out 'til the end, Now that it's raining more than ever, Told you we'll still have each other



2. Forever -

Fireflight


When I'm starting to drown, You jump in to save me, When my world's upside down, Your hands, they shake me, and wake me, Oh, tell me you're here, That you will watch over me forever, Oh, take hold of my heart, Show me you'll love me forever

3. Work -

Jimmy Eat World

If you only once would let me, Only just one time, Then be happy with the consequence, With whatever's gonna happen tonight, Don't think we're not serious, When's it ever not, The love we make is give and it's take, I'm game to play along

4.

Map of the Problematique -

Muse


Fear and panic in the air, I want to be free from desolation and despair, And I feel like everything I sow is being swept away, Well I refuse to let you go, I can't get it right, Get it right, Since I met you

5.

My Hero -

Foo Fighters


There goes my hero, Watch him as he goes, There goes my hero, He's ordinary


6.

Poprocks and Coke

-

Green Day

If you should fall, You know I'll be there, To catch the call, You know I'll be there, I'll go anywhere, So I'll see you there, I don't care if you don't mind, I'll be there not far behind, I will dare, Keep in mind, I don't care, I'll be there for you




7. Thick as Thieves -

Dashboard Confessional I'll keep your secrets 'Til the grave has swallowed me, And I will never tell a tortured soul, There burning by my side, That I am a sinner, I am a savior, I am a lie, So keep your mouth shut, Keep your guard up, I swear I'll make it right




8.

Baby, it's Fact

-

Hellogoodbye

Baby, it's fact, Our love is true, The way black is black, And blue is just blue, My love is true, It's a matter of fact, Oh, and you love me too, It's as simple as that, Baby, our love is true





9.

Don't Wait -

Dashboard Confessional

The sky glows, I see it shining when my eyes close, I hear your warnings but we both know I'm gonna look at it again, Don't wait, Don't wait, The road is now a sudden sea, And suddenly, you're deep enough To lay your armor down

10.

Invincible -

Muse

During the struggle, They will pull us down, But please, please, Let's use this chance To turn things around, And tonight We can truly say Together we're invincible
Download Here.